Summary
Risk-free arbitrage opportunities do exist via public information sources.
Only a simple English interpretation and arithmetic calculation are required to take advantage of this opportunity.
Optimistic outlooks for both stocks are anticipated post-split-off.
In a July 11 press release, Lockheed Martin (NYSE:LMT) announced that it will split off its Information Systems & Global Solutions (IS&GS) business segment to Leidos Holdings, Inc. (NYSE:LDOS). It's being called a Reverse Morris Trust transaction for tax-efficient purposes.
LDOS's price moved up from $52.78 per share on July 11 to $55.39 the next day. LMT's performance is also slightly up by 1.2%, which indicates the indifferent attitude the market give to this news. Is there a profitable opportunity woven into this deal? And what is a "Reverse Morris Trust" transaction anyway?
As usual, the devil lies in the details. Let's take a deep dive into the finer points. According to the press release on July 11, 2016, there are several key elements pertinent to this exchange offer: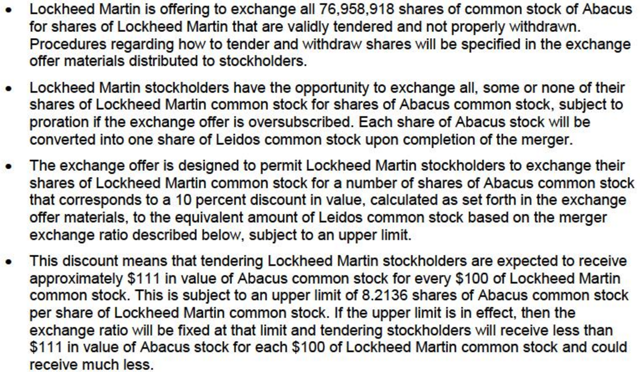 So the caveat in the design that catches an investor's eye instantly is the receipt of $111 in value of Abacus common stock in exchange of $100 value of Lockheed Martin common stock. So if I am a Lockheed shareholder agreeing to participate into this deal, I receive 10% return right off the bat. Should I purchase LMT shares to pocket the anticipated 10% return? Before jumping into action, I'd check three points:
Is the 10% profit guaranteed, and what's the hidden risk?
How much can I participate to take this advantage?
What's the outlook for the two stocks?
For question 1, one potential risk is that Leidos takes a nose dive, causing the Leidos shares to be worth less than the $110 of anticipated value. Or LDOS shares decline significantly in value post-split-off. There is another caveat in the calculation based on prospectus excerpt below, so the number used is the dividend-adjusted price of LDOS. Given today is just one day ahead of final expiration, the terms are determined as follows: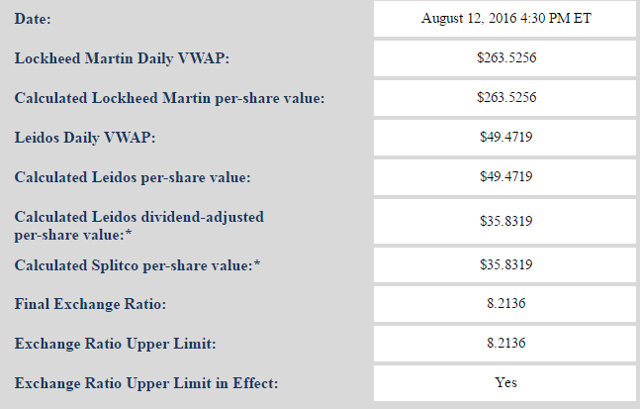 According to the table above, $35.8319 multiplied by 8.2136 equals 294.3089, denominated by LMT price of $263.5256. At the pure stock exchange level, I will gain 11.68% profit. Actually, LMT published on its website on Aug. 15 the final prices, which were in line with my calculations. Note it is 7.42%, instead of the 10% previously claimed.
For question 2, if everyone wants to capitalize on this opportunity and wants to maximize the profits, then the exchange is subject to proration if the offer is oversubscribed. There are roughly 303 million LMT outside while only 76 million is needed, so about a quarter of the shares I purchased can be converted to get an estimated 7% return if every shareholder elects to do so. In reality, I speculate not everyone tries to figure out this great deal and simply waives this opportunity. So I might have 50% chance, leading to a 3.5% return relative to the capital invested.
Alternatively, there is a carve out giving "odd lot" shareholders a guarantee of 100% participation in the offer. So by tendering 99 shares or fewer, you can be assured of fully participating in the exchange of LMT for LDOS. Based on the arithmetic, this looks like a fair risk to take for a potential 10% return subject to pro-ration for tendering 100 shares or more. It looks even better for a smaller amount tendered under the "odd lot" carve out.
What really strikes me is why this deal is designed in such a way that leaves free money on the table. Just some simple third-grade math can lead to an almost risk-free return. Any smart investors who identified this opportunity will come into play with large positions. No wonder the price of LMT has been driven up since January of this year until the present by 22.73%
By the time this article is published, it will already be too late for readers to capitalize on this deal. However, it's still worth some contemplation and speculation on both stocks' performance after the exchange offer is consummated. Take a look at the year-to-date performance of Leidos. It took a plunge during a span of January and February. Given the new 77 million shares to be issued, existing outstanding share values are at the risk of dilution. However, in just the last five days closing to this deal consummation, there was a 5% uptick of Leidos, indicating the optimistic sentiment toward its future outlook.
I would conclude that this optimism is well-founded by understanding their ownership structure. Even though LMT is splitting off IS&GS to Leidos Holdings, LMT holds 50.5% stake in Leidos. Given the core competencies of Leidos to run this business in the future and the deep client connection LMT has with the government, substantial synergies can be created by this deal. And let's not forget the tax efficiencies presented by the Reverse Morris Trust nature of the transaction itself.
Editing on Aug 19th to correct my misunderstanding of the ownership structure of LDOS after merger. Thanks @dlma1 for pointing it out -"The FORMER SHAREHOLDERS (not the corporation) who tendered their shares acquire 50.5% interest in Leidos.", illustrated by the graph at page 28 of the prospectus below: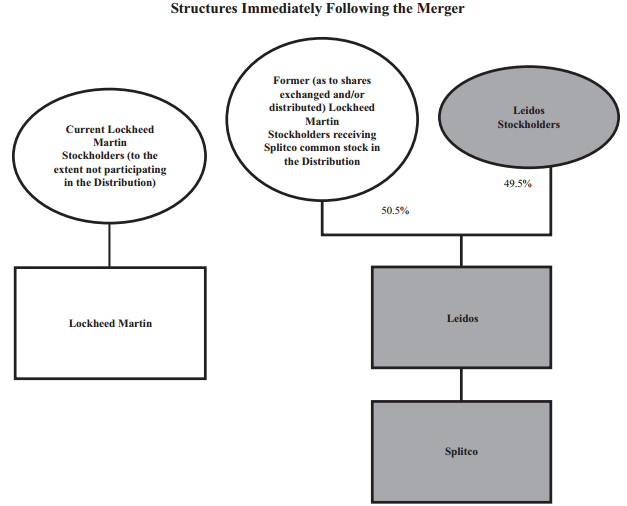 Disclosure: I am/we are long LMT, LDOS.
I wrote this article myself, and it expresses my own opinions. I am not receiving compensation for it (other than from Seeking Alpha). I have no business relationship with any company whose stock is mentioned in this article.