Trace the original publication in Seeking Alpha – here
This company took a big hit when it failed its first attempt to get its weight management drug candidate Lorcaserin approved by the Food and Drug Administration (FDA).
In December 2009, the New Drug Application (NDA) was submitted to the FDA and in October 2010, the FDA issued a Complete Response Letter (CRL) to Arena (NASDAQ:ARNA). Arena submitted the NDA in the end of 2011 again and was assigned June 27, 2012 as the Prescription Drug User Fee Act (PDUFA) date.
What are the major issues raised by the FDA in the CRL? I think if the company can address these issues perfectly, very likely it will get approved this time. The issues were summarized in six bullet points listed below (excerpt from the 30th Annual J.P.Morgan Healthcare Conference Presentation):
Results of Phase 3 BLOOM-DM clinical trials
Assessment of margin for mammary adenocarcinoma in female rats
Investigation of rat mammary tumor mechanism
Estimation of margin for brain astrocytoma in male rats
Refinement of 5-HT subtype 2 receptor activity
Assessment of abuse potential
Did Arena address the above issues well? Let's take a detailed look at its recent 8-K about this:
BLOOM – DM (Behavioral modification and Lorcaserin for Overweight and Obesity Management in Diabetes Mellitus) clinical trial evaluated lorcaserin for weight loss in patients with type 2 diabetes. Around 45% of the patients in the trial group lost more than 5% of their weight while less than 20% of the patients in control group lost more than 5% of their weight. The difference is significant at 99% confidence interval. So I conclude that the efficacy of Lorcaserin is good, however, 45% of the patients losing 5% of their body weight obviously is but not excellent enough to impress the FDA. The result is shown in the chart below. (excerpt from the J.P. Morgan Conference Presentation)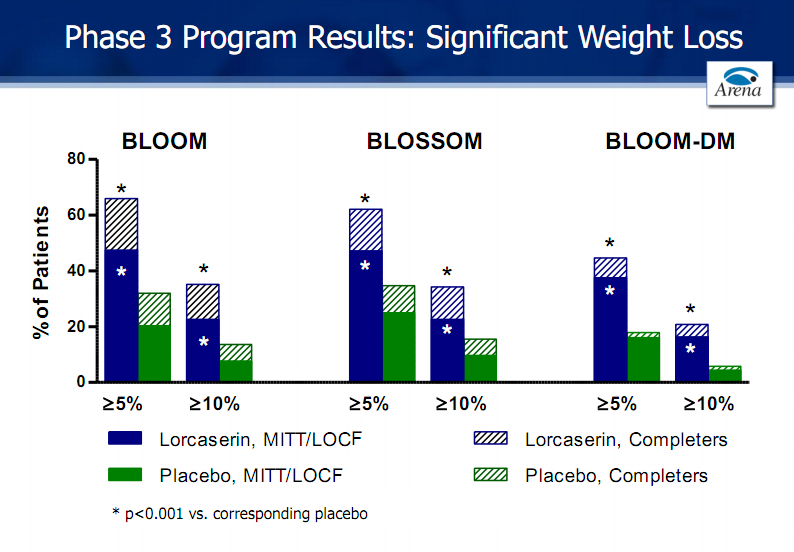 Assessment of margin for mammary adenocarcinoma in female rats, which I think is a serious issue. Why does lorcaserin cause mammary tumor in rats? There is unresolved exposure-response relationship for locaserin-emergent mammary adenocarcinoma. And the FDA wants to understand the mechanism behind it. A three-month study of intact female rats demonstrates a link between lorcaserin, increased prolactin, and mammary changes that can precede hormone-mediated mammary tumors in rats. A blockade study of one-month and shorter duration suggests that lorcaserin mediated proliferative effects on the rat mammary gland by a change on the pituitary prolactin level.
Investigation of rat mammary tumor mechanism announced results from a Pathology Working Group's re-adjudication of female rat mammary tumor diagnoses from a two-year rat carcinogenicity study of lorcaserin. Arena convened the PWG in response to the lorcaserin CRL, which questioned the certainty of the female rat mammary tumor classifications. I didn't find any further conclusion on this point yet.
Estimation of margin for brain astrocytoma in male rats. In the most recent 10 Q, Arena announced the completion of a clinical study that measured lorcaserin concentrations in human cerebrospinal fluid and plasma and related data analyses. The study was conducted to provide additional data that may be informative for determining the human relevance of the observation of brain astrocytoma in male rats. However, I can't find any further information regarding the conclusion on this issue yet.
Refinement of 5-HT subtype 2 receptor activity. Arena did receptor pharmacology experiments to investigate lorcaserin's functional activity at the three serotonin subtype 2 receptors (2A, 2B and 2C) in the absence of receptor reserve. These experiments confirmed that lorcaserin was 14 times less potent at 2A and 61 times less potent at 2B receptors than at 2C receptors. This addressed another major concern from the FDA that lorcaserin may be activating serotonin 2A and 2B, which will cause altered perception and cardiac valvulapathy.
Abuse potential issue raised by the FDA. Arena completed two preclinical studies regarding this issue. The company believed the results of these studies are consistent and sufficient to eliminate this concern.
It's quite clear that there was a causal relationship between lorserin and carcinoma forming through the stimulation of prolactin. Even Arena emphasizes that only the high dose group has significant consequence. Nobody would take the risk of getting cancer in exchange for losing only 5% of her/his body weight. In my opinion, The FDA would conclude that, if approved, one third of the U.S. population might be put in potential danger by using this drug. The FDA, obviously, won't favor such a trade-off.
So, my view on this company is bearish.