Summary
The recent two hurricanes devastated Texas and Florida causing some companies impacted negatively and some others positively.
These companies can be identified systematically and quickly by sifting through their sector classification and supply chain network.
Then pinpoint ETFs  that are comprised mostly of these relevant companies to take positions on.
I just put out an Insight article on my company's website – Which Companies Are Performing Well Following Harvey and Irma.
In this article, I applied three dimensions of analysis to dissect the stock market and dig out mostly impacted companies. The first dimension of the analysis is to identify sectors with exposure, both positive and negative, to these hurricanes. Positively impacted sectors are mostly in construction, engineering, utilities, landscaping, maintenance/repair/overhauling, waste management products and services, while negatively impacted sectors are likely in insurance, reinsurance, cruise lines, and the tourism business. This initial analysis indicated 91 companies in sectors likely to be positively impacted, and 15 companies negatively affected in the aftermath of the hurricanes.
The second dimension is to find companies in the above-selected sectors located in either Florida or Texas, as these companies are likely to gain greater benefits by being able to offer business locally. For example, Fluor Corporation is an engineering and technology company headquartered in Irving, Texas, with major operations in the energy sector. On the negative list, Royal Caribbean Cruises Ltd. is headquartered in Miami, Florida, and a significant portion of its business is based in Florida. This dimension identified 20 companies based in Florida or Texas that will benefit from hurricane rebuilding, while two companies will see negative impacts on their businesses.
However, other companies belong to the above-selected sectors that do not reside in those two states but can also be impacted, positively or negatively, if they have existing customers in Texas or Florida. By tapping into supply chain ecosystems of these companies together with their customers' location information, we can expand the list of target companies. For example, AECOM, a construction and engineering company, is located in California, but one of its major customers is the State of Texas, so we can assume a bump in business activity in Texas as the state rebuilds. RenaissanceRe Holdings Ltd. is not based in Florida or Texas, but one of its customers, Universal Insurance Holdings, Inc., has its headquarters in Fort Lauderdale, Florida, so this company should be included on the negative list. This is the third dimension of our analysis – Supply Chain. With this dimension, we add another 20 companies to our positive group (netting out 13 companies that were already on the list from Dimension Two) and 4 to our negative group.
| | | | | |
| --- | --- | --- | --- | --- |
| Dimension | ONE | TWO | THREE | |
| Hurricane Impact | (Sector selection) | (Located in FL/TX) | (Supply Chain in FL/TX) | Net |
| Positive | 91 | 20 | 33 | 40 (13 overlapped) |
| Negative | 15 | 2 | 4 | 6 |
Taking our two lists (40 positive and 6 negative), we can then analyze the aggregate performance of each group. Combining the buckets of positively- and negatively-impacted companies into two indices (equal-weighted), the chart below shows the relative performance of the two groups compared to the S&P 500. As expected, in the last month since the hurricanes hit the U.S. the positive company group price has performed well while the negative bucket declined.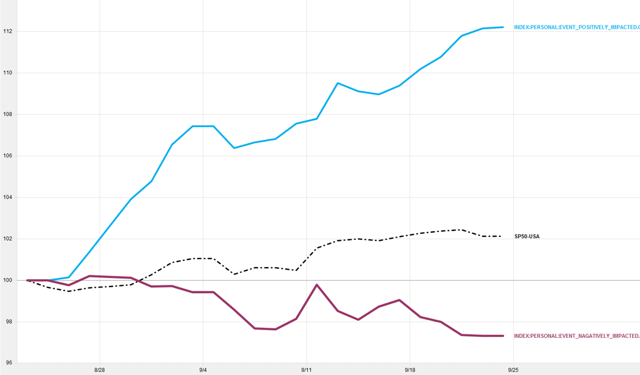 Lastly and more importantly, I recognize trading individual stocks identified above is not necessarily the optimal strategy due to idiosyncratic risks embedded with individual stocks, in addition to high transaction costs, therefore investors may favor ETFs for events based trading such as this. However, there are thousands of ETFs available in the market, so the challenge lies in identifying the most relevant ETFs to buy or hedge.
Hence, I applied the fourth dimension – by designing a simple algorithm to match the relevant stocks identified above and then to calculate their aggregated weighting in every single ETF in the U.S. market.
The below table lists the top six ETFs and their corresponding weight of relevant stocks. These are the positively impacted list so far. For most investors, it's easy to long ETFs than short them, so I only picked the positive ones.

I also plotted the top three ETF's performance compared to the SPY as in the chart below. First Trust RBA American Industrial Renaissance ETF (AIRR) has risen by over 15% since the hurricanes, I'd expect it would keep this up-trending momentum for the following months.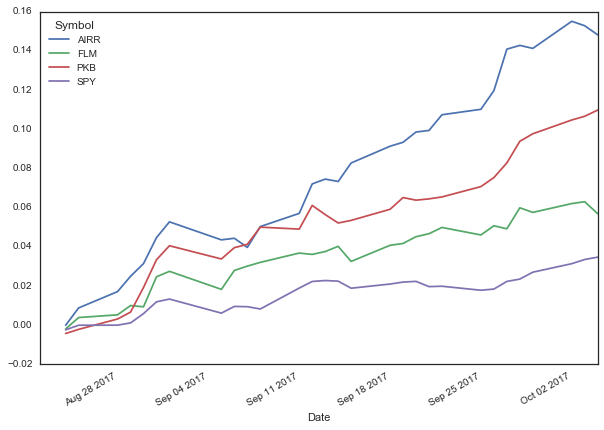 It seems to be a perfect strategy on my data crunching outcome however, I want to caution investors some potential issues. First, the ETFs I found are not the full replica of the positively impacted list of companies. The best one – AIRR- only has 30% of it components matched to that list. So you need to be heedful of the overall aspect of these ETFs before playing the hurricane factor. Second, the trading and holding cost also ought to be considered. The expense ratio of AIRR and PKB is 0.70% and 0.63% respectively, and even though both of them hold a good amount of assets underneath -$171 and $343 million each, their trading liquidity is not the deepest among the whole spectrum of ETFs – average spread 0.19% and 0.12% respectively.
That being said, I would like to point out that, in this time period, when setting aside a huge budget for American infrastructure constructions are chanted by him and his supporters persistently, the idea of putting money into infrastructure themed ETFs is bound to make money.
Disclosure: I/we have no positions in any stocks mentioned, and no plans to initiate any positions within the next 72 hours.
I wrote this article myself, and it expresses my own opinions. I am not receiving compensation for it (other than from Seeking Alpha). I have no business relationship with any company whose stock is mentioned in this article.