Summary
LDOS may likely suffer a short term decline in the coming days.
The shareholder converted from LMT will sell for quick profits.
Similar transaction between WY and TPH can be referenced.
In my preceding article – "Arbitrage Opportunities In Lockheed Martin And Leidos Split-Off Transaction", I expressed my long-term bullish view for both Lockheed Martin (NYSE:LMT) and Leidos Holdings, Inc. (NYSE:LDOS) because the split-off deal is beneficial to both parties. However, I realize it is not adequate enough to draw a rosy picture of the long-term horizon while in the short term LMT shareholders who tendered to convert their LMT shares to LDOS may likely suffer a short term decline in LDOS stock price due to the unwinding of arbitrage strategies surrounding this transaction.
There are two reasons I think LDOS will suffer a short-term slip in the coming days.
The first reason is more or less intuitive. As I alluded to in the prior article, sophisticated investors or traders foreseeing this arbitrage opportunity may have already taken part buying large positions of LMT and simultaneously buying puts of LDOS to lock in their profits. So could be strong selling pressure from these arbitragers on one hand. On the other hand, retail investors who participated in the split-off may just be sitting on the fence, without much understanding or interest in being a long-term LDOS shareholder. Under either scenario I don't believe the majority of these new LDOS shareholders controlling 50.5% of the shares are long-term fundamental investors in this name. This leaves the stock susceptible to the arbitragers and speculators eager to liquidate their positions and move on sooner rather than later.
If we look into here to find out the short interest in LDOS (as follows), there is a 72% of short increase on LDOS relative to July 2016. The total short percentage of the float value is 21.79%, which is quite high.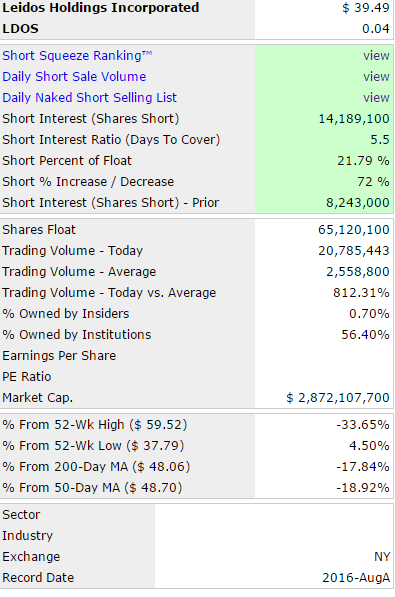 The second basis leading to my thought that LDOS may have a short term tumble is by investigating similar transactions. Another Reverse Morris Trust split-off occurred two years ago between TRI Pointe Homes (TPH) and Weyerhaeuser Company (NYSE:WY) in June of 2014. Via this deal, TRI Pointe acquired Weyerhaeuser's homebuilder, WRECO, with a Reverse Morris Trust structure, gaining substantial market shares as a homebuilder. On July 07, 2014, the transaction was consummated.
The stock performance of the WY and TPH resembled that of LMT and LDOS in a sense that both WY and LMT were companies splitting off a business segment. The stocks of WY and LMT had risen prior to the expiration date, while TPH and LDOR the companies receiving the new business units had been declining within the same time frame. The mechanism behind both transactions is quite similar; therefore I infer that the stock price movements after the expiration date for LMT and LDOR would also be similar.
See below the two-month retrospective time period, Jun 27, 2014 to Sept. 01, 2014. TPH hit the highest $16.05 per share on Jul 08th and then dropped to 12.91 on Aug 12th, equivalent to a 19.56% decline (price graph below). The trading volume more than tripled around the 8 calendar days after the expiration date. (source: google finance)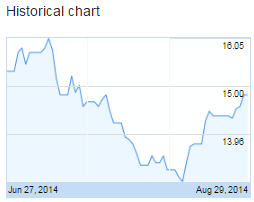 WY's performance also took a hit in a very similar time fashion, but with a much lesser degree – 5.4%. It bounced back swiftly and then traded higher than before the transaction as shown in below chart.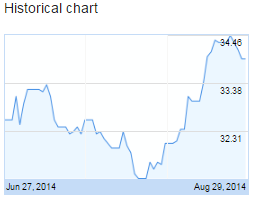 So what should we do now to tackle this situation with LMT and LDOS? I would suggest two ways. One is to take a deep, fundamental view of LDOS' bright future, ignore all these temporary ups and downs and continue to hold the stock. The other is to sell LDOS quickly to cash in the profits from the deal and invest your money elsewhere.
Disclosure: I/we have no positions in any stocks mentioned, and no plans to initiate any positions within the next 72 hours.
I wrote this article myself, and it expresses my own opinions. I am not receiving compensation for it (other than from Seeking Alpha). I have no business relationship with any company whose stock is mentioned in this article.